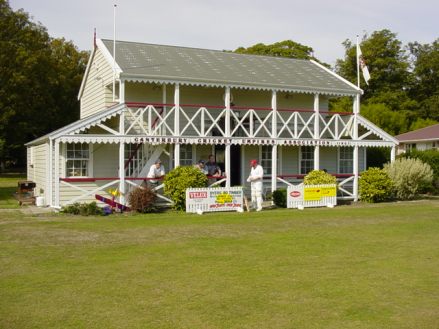 For more than 150 years, Hagley Park has been home of cricket in Christchurch. In that park, during the 1860's, pioneers prepared a cricket oval.

Believed to be the oldest cricket pavilion in the world, and certainly the oldest sports building in New Zealand it has offered shelter to generation of Canterbury's cricketers ever since.
1863 Built at Dillowys, "Nancy's" corner, in December for the cost of 300 pounds and used by Canterbury Cricket and the visiting George Parr's "All England" X1 in February 1864
1869 Moved by dray to its present site in Hagley Park Oval for 23 pounds 10 shillings and used by Christchurch United Criclket club
1908 Home of Christchurch West and St Albans Cricket Clubs
1956 St Albans CC leave and Christchurch City Council condems the building.
1957 Restored at a cost of 1009-0-0 pounds
1972 purchased by Marist cricket club. Front balcony renovated.
In 1988, the members of the Canterbury Cricket Umpires Association purchased the derelict pavilion and led by Brian Aldridge, and with financial help, members restored it to its former glory.
Re-opened in 1990, the pavilion now stands as a memorial to the pioneers of Canterbury cricket, and among its unsung heroes-the umpires.
It now stands as "the Jewel" of Hagley Park